View and Update Your GIC Benefits Using MyGICLink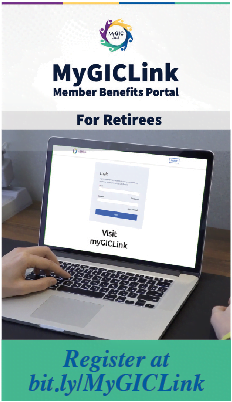 Exactly one year ago (September 2022 Voice), we announced that the state Group Insurance Commission (GIC) had opened its MyGICLink member benefits portal to retirees and survivors who are enrolled and have internet access. Over the course of the past 12 months, many Association members have accepted the GIC's invitation and registered with the portal.
"I can report that I've received no complaints about the portal from members," according to Association Coordinator Cheryl Stillmen. "In fact, all that we heard has been positive."
With MyGICLink, you can view your GIC benefits throughout the year in real time, update coverage during Annual Enrollment, as well as within 60 days of a qualifying event, and much more. GIC members with an up-to-date email address on GIC records received a registration email and now have access to this new self-service tool.
If you have not provided the GIC with a personal email address, please complete the email update form on GIC Online Forms at bit.ly/MyGICLinkOnlineForms. You will receive an email to register for the MyGICLink as soon as GIC has updated your email. Please note: You can also update your GIC benefits using GIC Online Forms or GIC Print Forms.
For more information on the portal, including resources and tutorials, members can visit bit.ly/MyGICLink.